Sometimes when I ask a client which colours they would like to see in the garden they will say that they love all colours and have no preference at all. Just by looking at their home and their clothes I can see that they do have preferences; it's just that they don't realise that it's possible to extend those choices into the garden.
These colour and mood sheets help.
This combination of flowers in shades of pink, mauve and purple is romantic, soothing and gentle.
I often use these colours when a garden is wanted as a place of contemplation and calm.
In the garden these colours are seen at their best in early morning and evening light; they seem to glow or shine in the low light.
What colours you choose all depends upon the mood or feeling you want to create in your garden. Compare the feeling you get from looking at the purple and pink colours with the following colour sheet full of sunshine yellow.
This is such a bright, alive and happy colour combination. You can't help but feel full of joy surrounded by these pure yellows. I like to add some white and a dash of blue to make this colour work well in the garden.
These colours look wonderful at any time; they withstand the glare of the mid day summer sun and lift the spirit in the early days of spring and the last days of autumn.
This isn't a colour scheme that I recommend for small gardens, but where there is space and large, open vistas, this combination of reds and russets looks wonderful. It works particularly well with grasses and prairie plantings.
For those that like really vibrant gardens; and these can fall into both the cottage and modern style, using pure primary colours together gives a really dramatic effect.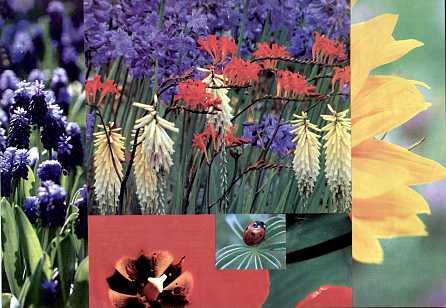 This isn't a colour combination for gardens where the desired effect is that of quiet and calm.
These colours bring a vibrancy and sense of fun to a garden. Children love these colours, and when asked, pick this bright combination nearly every time. It takes care to make sure that this riot of colour doesn't leave the garden feeling over busy and restless.
In complete contrast, the White Garden is all that is peace, calm, simplicity and purity; it is the first choice of many.
It's been said that the 'white garden' is a cliche or the preserve of the timid. I say; nonsense, white gardens can be sublime and are a balm to the those who live in a hectic world.
White gardens work best when the green of foliage is understood and used as the secondary colour and the texture and form of plants are used to their full extent.