Poppy lives in Highgate, London.
Her original training was at her Majesties pleasure in Regents Park and Eltham Palace back the 1990's…and design was from then self-taught
In the febrile commercial world of what passes for gardeners, Poppy sticks to the slow lane, doing the right things at the right time, or to put it in plain English, micro-managing all the interconnected systems and processes into a configuration that creates ongoing maximum performance.
She loves best the challenge of turning a dying garden around.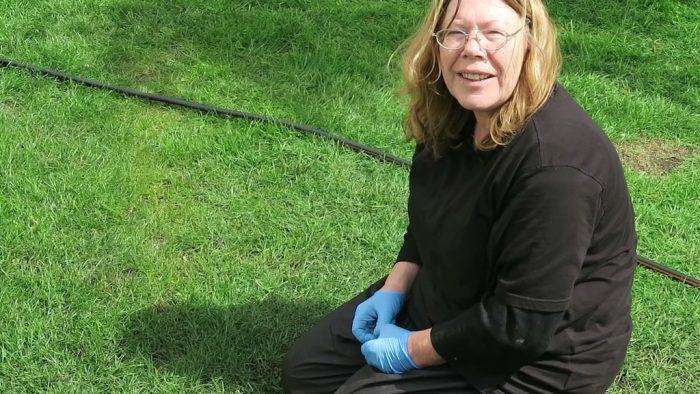 Poppy's CV
2008-2014 Manager, Green Spirit Gardens in Highgate London. . Garden Management, design and consultancy. Monetized writer on garden and lifestyle topics for Squidoo and other platforms
1997-2008 Manager, Positive Earth Ltd Garden design and Installation company based in Highgate Increased turnover from 40k in 1996 to 250k in 2007 Designed and managed approx 300 installations, directing staff of 5 -10
1991-1997 Manager, LVM Gardens Established her first company in Crouch End, North London
1992-Contributor to RHS Dictionary (Specialism: Amaryllidaceae)
1986–1991 Queen Mary's Rose Garden, Royal Parks Grade 1 Gardener (3 year apprenticeship) City & Guilds in amenity horticulture with distinction. RHS General Certificate In charge of alpine island & alpine propagation.
1972-1998 Studied Buddhism under John Garrie Roshi whilst living and learning about self sufficiency and alternative lifestyles.
Other work: Piano Teacher.
Interests: Geomancy, Hedge Witchery, Music, Medieval history and Animal Welfare.
"In whatever I do I like to combine intuition, aesthetics and practical skills."
---
Gerry Feeny is co-manager at Green Spirit . He relishes all the physical tasks but at time of writing he has no official clearance on the horticultural side. Irrigation and garden lighting by appointment.